Going out for a meal is an indulgent, a treat, right? Well, it is unless you have kids with you who are bored, fidgety, don't like their food or are generally unhappy.
The good news is, that by following a few simple steps, you can ensure that dining out even with your children in tow can be a relaxing and enjoyable experience. Read on for my top tips for making eating out with kids easier.
Do your research
The first (and arguably most important) tip is to plan ahead. Choosing the right venue for your family meal will instantly make it more enjoyable. Many restaurants now have menus online so that you can check what sorts of things are available and whether your little ones are likely to eat them.
If there is not enough information on their website, their social media channels may offer some more insight, as businesses these days are often more likely to update their Facebook than their actual website.
If you still don't get the information that you're looking for, do it the old fashioned way and pick up the phone.
Questions to ask include;
do they have highchairs? Will you need to book one?
are there baby changing facilities?
do they offer activities such as colouring for children?
is there a specific children's menu?
Knowledge is power, so asking these questions in advance will set your meal off on the right foot.
Think About Timing
What time do your children normally eat?
What time will you book the meal? Think about what time your little one usually eats, then remember that the time that you book the table is not the time that you will actually eat. Aim to book the table for at least 30 minutes before your children are actually due to eat, as over hungry children is a recipe for disaster.
When is nap time?
Naps are another thing to consider. For small babies, it can be a good idea to plan for your meal to coincide with nap time. A short stroll to get them off to sleep in the pram before you eat can mean that you will be able to enjoy your meal with two hands.
For older babies and toddlers that will need to be awake to eat, plan their naps for the day accordingly. Ideally, they will have napped already and won't be at that sleep-deprived cranky stage while you're out. If they usually nap later, make sure you book the meal so that it does not encroach too much into the time when they will inevitably be becoming tired and fractious.
Bring Your Own Entertainment
This really is the key to being able to enjoy eating out. By bringing age appropriate entertainment with you, the meal (and espeically the portion of the processdings where you are waiting for your food) will be much calmer.
Products from Amazon.co.uk
‹
›
Each of my young children have a small bag that lives in the car and contains toys and activities for times like these.
My one-year-old's bag contains toys such as Little People, In The Night Garden characters, Duplo blocks, a note pad and crayons.
My 3-year-old little girl's bag contains Polly Pockets, small princess toys and a notepad and pens.
My 6 year old son's bag contains an assortment of LEGO and StarWars figures.
The other option is to bring magazines or sticker or activity books for your children to do while waiting for their meals.
Products from Amazon.co.uk
‹
›
Eating Out Essentials
If you have read my Changing Bag Essentials post, you will know that I have a few must have items that I always carry around with me to make eating out cleaner, simpler and easier.
BIBaDO
I have always been a fan of long sleeved bibs to protect my children's clothing, but no other bib compares to the BIBaDO. This genius bib not only protects the baby's arms and chest, but it bridges the gap between the baby and the highchair too, stopping all of that pesky food dropping into their laps and being smushed under their bottoms.
EasyMat
The EasyMat Mini is another of my eating out essentials. This clever little suction plate attaches to almost any surface (with the exception of untreated wood). I like to stick Zara's EasyMat onto the highchair then decant small amounts of her meal at a time onto it. This avoids the embarrassing and wastful fiasco of her entire meal being flung onto the floor.
Cheeky Wipes
I started using Cheeky Wipes before I discovered cloth nappies, with the intention to use them to clean up mucky hands and faces. They are amazing at this job, cleaning more efficiently than disposable wipes, plus being kinder to both baby's skin and the environment too. For full details about cloth wipes, you can visit my Complete Guide To Cloth Wipes post.
Reins
I find that most restaurant highchairs have just a lap belt which is totally incapable of containing my wriggly toddler. Reins can be easily attached to most typical wooden restaurant huighchairs and will keep your baby safe while you eat.
Products from Amazon.co.uk
‹
›
Those are my top tips for making eating out with babies and small children easier.
What are your top tips? Let me know, I am always keen to learn more ways to make parenting easier.
Fancy Getting Your Hands On My Ultimate Mum Bundle Resource?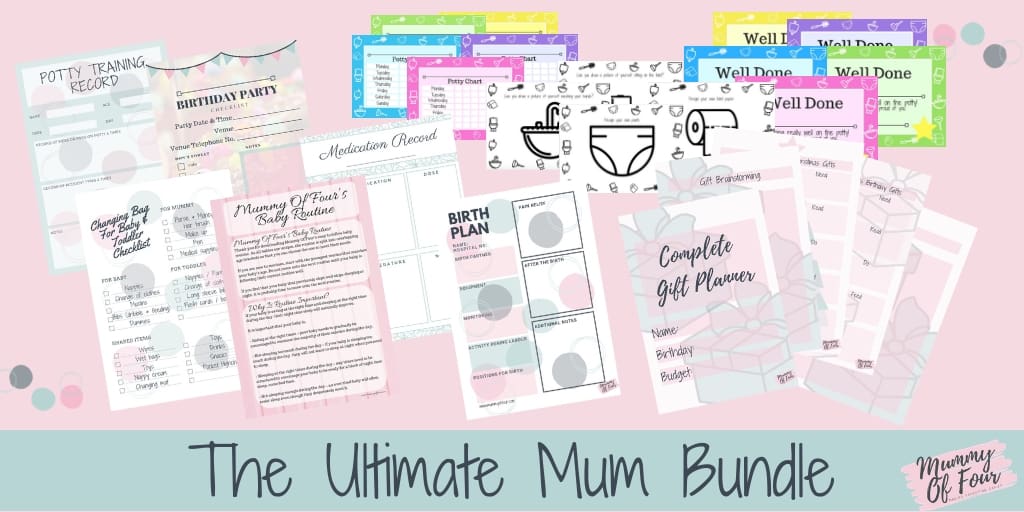 Why not pin this for later?
Disclosure – This post contains affiliate links, meaning that if you click through and make a purchase, I will make a small commission at no extra cost to you. Thank you to each and every one of you that supports my channels & blog by purchasing using my links, allowing me to continue to bring you free content.