Are Your Mornings Stressful?
If you have children you will know that school morning routines can be stressful. When it comes to busy mornings, the key to getting everyone to school, child care and work without stress is the right school morning routine. Watch the videos below then keep reading for time-saving tips to make your morning routine run smoothly and save your sanity.
Disclosure – This post contains affiliate links, meaning that if you click through and make a purchase, I will make a small commission for the referral at no extra cost to you. I only recommend products that I love.
Organise Uniform For The Week On The Weekends
When sorting through your mountains of laundry on the weekend, consider a different way of putting things away. Rather than sorting clothes into categories (socks together, trousers together etc), consider sorting clothing into complete outfits for each day. Not only will this save putting things away, then having to gather the items together the night before, but it will help your child become more independent. My children each have their clothes organised into days, which we do together each weekend for the coming week. Each morning, they know that they have to put on everything that has been allocated for that day.
Remember, every minute that you save every morning is an extra minute that you can spend in bed.
Organise Everything The Night Before
Make sure that every single thing that you need for the morning is packed and prepared. That needs to be EVERY SINGLE THING. There is no time to waste in the mornings looking for a stray sock and hunting for things like this can waste valuable minutes. So make sure that these things are ready in the evenings;
All items of clothing for every member of the family, including yourself.
Bags and other items needed for the coming day
Packed lunches prepared
Nicola from "Tales From Mamaville" agrees with me. She said;
"Keep as much as you can ready the night before – lunches/ waterbottles/ uniforms/ your clothes/ shoes and jackets by the door … the less there is to do and remember in the morning the better."
Make Sure That Your Teen Is Prepared Learn
As I discussed in my post Help Your Teen Succeed In School With This Simple Trick, ensuring that your child has the correct books and equipment for the day's lessons is essential to give them the best shot at actually learning something. Check out the post for full details of how to implement the system.
Baths & Shower In The Evenings
Make sure that both you and your little darlings are scrubbed and tubbed in the evenings rather than the mornings. Washing and drying hair is a time consuming business that can cause lots of rushing, so get it all done before bed.
Get Up And Dressed Before The Children
I would highly recommend getting up before your children (if your children are not crazy early risers). Getting yourself ready in peace while they are still asleep will mean no interruptions, so will be a lot quicker. Check out the video below where I do just this.
Personally, I find that getting dressed after the children are awake takes 3 times as long as when I have a few minutes to myself to get sorted. So getting up a little earlier can save you a good few minutes.
This also works for Emma from The Money Whisperer, who said;
"Get up before the children so you can get yourself ready in (relative) peace and then focus your time and attention on them. I find this helps otherwise I have a hair straightener in one hand and a bowl of Cheerios in the other – which is never a good combination!"
Backpack Station
Setting up a backpack station near the front door ensures that your carefully prepared bags are easy to grab on your way out of the house. There is nothing that wastes time in the morning like having to run back upstairs to retrieve items that have been left in bedrooms. Check out these fantastic School Bag Storage Ideas from The Organised Housewife.
Schedule Your Morning And Calculate Exactly How Much Time You Have
Calculate how much time each thing that you have to do in the morning takes, then work back from the time you have to leave.
I find that setting alarms to go off on my phone helps us stay on track by constantly keeping me remninded of the time and what we should be doing. It is also helpful for the children to know what time it is and to get used to the routine of the mornings.
Amy from All About A Mummy agreed with me. Her top tip;
"Keep the routine the same everyday so the kids know what to expect and what is expected of them."
I certainly believe that all children thrive with routine and will be far more cooperative in the mornings when you have the same routine each morning.
Limit Breakfast Choices
Too many choices can be the enemy of efficiency. If I want to waste time in the mornings, the easiest way is to ask my children to choose what they would like to eat in the mornings. Not only will they take time to make the decision, but chances are they will all select different things. Keep it simple by agreeing in advance what will be for breakfast in the morning. Any choices can be given in the evenings when there is time to make decisions. I would also recommend that everyone eats the same breakfast, avoiding the additional time factors of preparing different meals for everyone. If your children are unable to agree upon which breakfast they would all like, it is perhaps best to tell them what they are having for breakfast, rather than asking them, and saving their own choices of breakfast for the weekend when there is more time.
Time Timer
At breakfast children (well my children at least) can have a difficulty understanding that there is a shortage of time in the mornings. After my younger son's Autism Diagnosis, we invested in a Time Timer. He, as with many children with ASD, struggles with moving on from an activity in which he is engaged. The Time Timer provides a visual representation to the child, indicating how much time is left.
As with many of the methods that are out in place to help children with autism, this visual representation can be helpful to both children with ASD & neuro-typical (children without ASD) too.
I find that by putting on the Time Timer, the children have a better idea of how much time we have for breakfast and are more likely to get on with eating. They are aware that when the timer is finished, that their breakfast will be cleared away.
Of course, if you don't have Time Timer, you could also use a kitchen timer, or countdown on a phone or tablet.
Clean Your Teeth Downstairs
When you have more than one child, the sheer act of taking everyone back upstairs to clean their teeth, then rounding them up to take them back downstairs can waste valuable time. If you have a downstairs loo with a sink, it is a good idea to leave toothbrushes there for use in the mornings before leaving the house.
Make Sure That You Don't Forget Anything
Even with everything prepared the night before, it is always possible to leave behind something vital that the children need for school. It can be helpful to set recurring reminders in your phone for things like PE kit, trip money or homework that are required for school. I find it handy to pop these things in my phone reminders, so that I am reminded to put them in the car just before it is time to go.
Another good idea was sent in by Veronica from My Parenting Journey, who said;
"I have a checklist posted on the board so me and my children can run over these things and not forget any."
Make Up Kit In Your Bag
As I suggested in my post all about How To Pack A Changing Bag For A Baby & A Toddler, it can be a good idea to leave a small make up kit of basics in your nappy bag or handbag. On mornings where you have got up a little later, or are running behind schedule for whatever reason, you can always save time before leaving and apply a couple of coats of mascara or a dash of lippy in a parked car when you arrive at your destination.
If your little is due to start school for the very first time, don't forget to check out my "Everything You Need To Know Before Your Child Starts School" post.
Fancy Getting Your Hands On My Ultimate Mum Bundle Resource?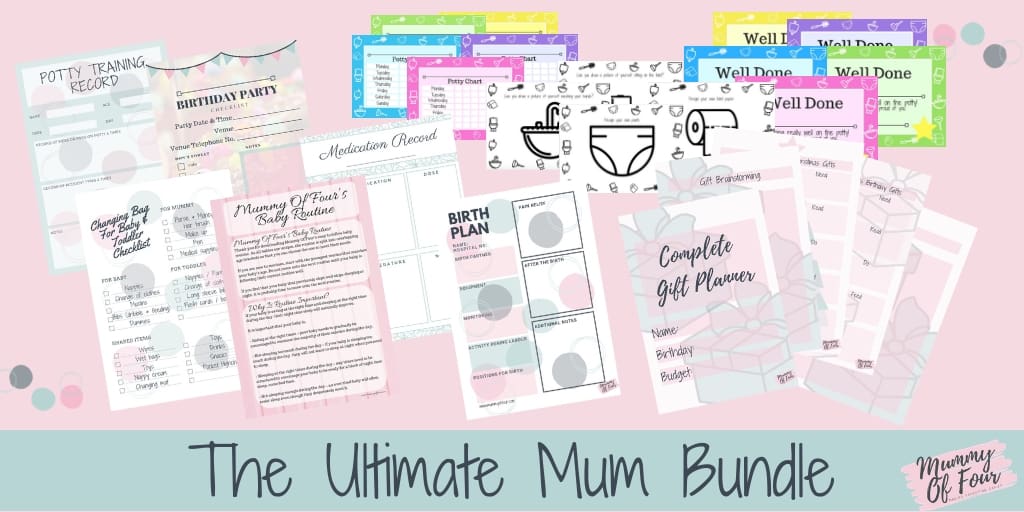 What Are Your Top Tips For Busy Mornings?
I would love to hear them! Please comment below with any life hacks that you use to make your mornings easier.
Why Not Pin This For Later?