If you suddenly find yourself having to homeschool your kids, you may be in need of tips and tricks to make home learning less stressful. This blog post is jam-packed full of homeschool tips and organisation ideas that you need to know to get you through teaching your kids at home.
Disclosure – This post contains affiliate links, meaning that if you click through and make a purchase, I will make a small commission at no extra cost to you. Thank you to each and every one of you that supports my channels & blog by purchasing using my links, allowing me to continue to bring you free content.
Set Out Your Home Learning Area
Wherever it may be, pick an area in your home that is designated as Your "home learning area" or "classroom corner". It could be your cleared kitchen table, a desk or a play table and chairs. It doesn't matter where it, but having this one area that you go to work will help to get both you and your children into "learning mode".
Try and keep your area clutter free and away from distractions such as toys and TV if possible.
As I work from home anyway, I have chosen the corner of my home office as our "home school classroom". Doing it this way means that I can occasionally set the children up with some work that they can do reasonably independently, then sit at my desk and manage to squeeze in some work of my own.
When selecting your home learning area, maybe choose somewhere near where you will be able to complete some of your own tasks while the children are occupied, be they work or housework.
Remember that your "home classroom area" will easily transition to a "homework station" once the children return for school. Associating this area with getting on with learning tasks will make homework easier then too.
Does every minute of home learning have to take place in your designated home learning area?
Of course not! But keeping the majority of the work in this area will help to keep focus and also compartmentalise when it is "school time" and "home time". It also means that you can do things like occasionally take work to do outside as a treat.
Establish A Routine
Easy as it can be to fall into a pattern of waking up "whenever" and going with the flow as you have no actual times to be anywhere, having a home school schedule to stick to will make things go much smoother.
I find that a schedule not only helps to fit more into the day but makes children feel more secure as they know what is coming next, as they would in a standard school day. Take a look at the schedule that we follow above, then grab my "Ultimate Mum Bundle" below, which includes the schedule printable as well as loads more useful printable resources for Mums.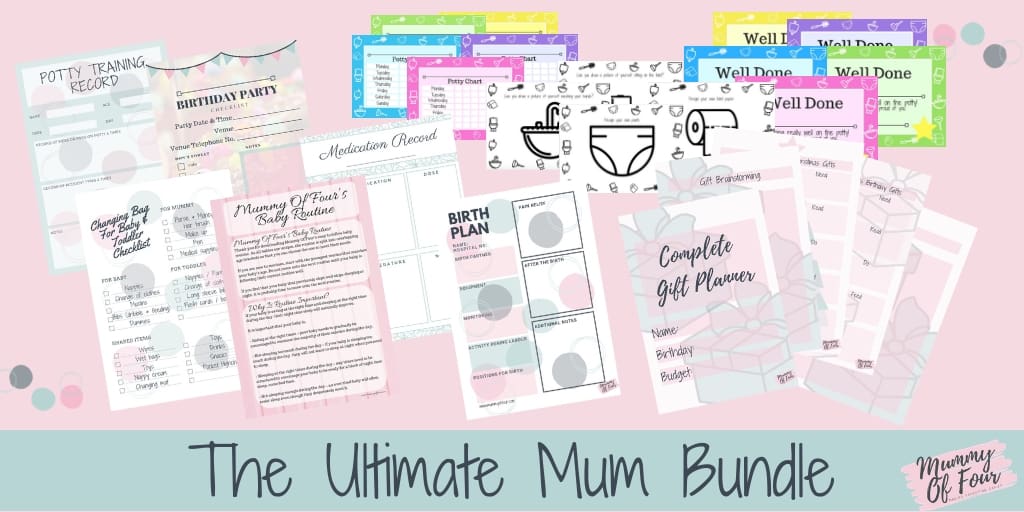 A Typical Homeschool Day
Take a look at the video below to see what a typical day of home schooling following our schedule looks like.
Eat The Frog First
It is said that Mark Twain once said "If the first thing you do each morning is to eat a live frog, you'll have the satisfaction of knowing that it's probably the worst thing you'll do all day", which is discussed in depth in the book Eat That Frog by Brian Tracy.
There will be certain home learning tasks that your children will be far less keen to tackle than others, usually the more academic subjects. If you plan to do this type of work with your children, be it set by the school or otherwise, getting it out of the way first thing in the morning when their minds are fresh will make the whole process run more smoothly.
As you'll see from my home learning schedule, we do focussed learning blocks of numeracy / maths and literacy / English before lunch. When they are less likely to concentrate and focus after lunch, we do learning with educational videos, educational apps and then arts and crafts. It also means that the children have these "fun" activities to look forward once the more formal learning is out of the way.
You'll find that normal school days are structured the same way, with more academic learning earlier in the day, as studies have shown time and time again that this is the best way for children to get the most out of their learning.
Switch Activities Regularly
How long is your child's attention span? 10 minutes? 30 minutes? An hour? However long your particular child's attention span is (the longer they are the shorter this is likely to be), I would recommend switching activities just before their attention runs out. This way the days will go quicker and you will be met with fewer complaints about boredom.
In our schedule, we have 2 x 90 minute focussed learning clocks in the morning, but this does not mean that we do just one activity during this block. For each block, I have several activities lined up, starting with the most taxing and relevant or important, working down to easier and less intense tasks.
Plan For Regular Breaks
As you'll see in my schedule, we have regular breaks scheduled to keep everyone fresh. I'd highly recommend changing location during these breaks and getting away from your "learning area" if possible. If the weather allows, get out into the garden or go for a walk to blow away the cobwebs and get everyone ready for the next learning slot.
Setup A Stationery Station
In the middle of our home learning table, we have a fully stocked stationery organisation caddy so that everything that we need for learning is to hand. This saves so much time that could be wasted hinting around for things and provides the children easy access to supplies for their craft and creative time too.
None of these items will go to waste when the children return to school, as they will still come in handy for homework and creative activities on rainy days. For a full list of my home school stationery must haves, check out the blog post below.
Organise Your Resources
Get your educational resources organised and ready for learning. I have written an extensive blog post about Educational Resources For Home Learning detailing where I get worksheets and workbooks for home learning, plus loads of great educational apps and videos. Click the button below and take a look.
Organise What You Have
As well as worksheets and workbooks, I have lots of toys and activities that we use to explain otherwise borning concepts.
I have a literacy box and a numeracy box with things that I have gathered over the years to help support my children in their learning. There may be things that you already have at home that you can use as educational resources in home learning. Take a look at the video and blog posts below for ideas of things to gather into your learning boxes.
Plan & Prepare Your Work In Advance
As I mentioned in my Educational Resources post, there are lots of places to get worksheets and workbooks for your children. Make sure that you have these printed out in advance, as your children will quickly lose focus and get bored if they are waiting for the printer when they could be learning.
I like to print age appropriate worksheets for each child and operate them out by subject and keep them in A4 document folders like the ones below so that we have work and backup work ready to go at all times.
Have Easier Activities In Reserve
Make sure that you have easier, less taxing ideas in reserve for when your children are done with their focussed work (even if the block is not over) and if they are generally feeling too overwhelmed to work on what you had planned. These activities can include reading books, colouring books, sticker books and simple craft activities.
Store & Organise Your Child's Work
What are you going to do with all of the beautiful work that your children produce during their home learning? Although you may want to display some of it, I suggest that you may want to get a ring binder to neatly store and organise the rest of it.
Have Water Bottles At the Ready
Make sure that your children stay hydrated with access to a water bottle at all times to ensure that they are at their best and ready to learn.
Meal Plan For The Win
Home educating can take up a huge proportion of your day, so taking the pressure off by doing things like meal planning and batch cooking can really help.
Stock Up On Rewards
Make sure that you have stickers in stock to reward your children when they have tried hard and worked well.
Get Active
Make sure that your days include some physical activity for both you and your children. If you can't get outside, check out one of the many YouTube channels dedicated to keeping kids active that I list in my Educational Videos For Kids blog post.
Remember That Non Academic Learning Is Important Too
Remember that there are so many non academic lessons and skills that you can teach your child at home that they will need for going back to school and beyond. Check out the blog post below for some ideas.
Give Yourself a Break
Remember that if you are attempting to home educate your kids during the global pandemic, it is ok not to be ok. We are not teachers and this is not home school, it is crisis school.
Some days you may get loads done and that's great! Other days you may have to call an inset day and that is ok too. Remember that no child will return to school at the level that they would have been at had this craziness not occurred. All that matters is that you and your children are safe and happy, anything else is a bonus.
Get The Ultimate Mum Bundle Now
Why Not Pin This For Later?