One thing that you'll know if you've watched my Instagram stories is that with 4 children, I do A LOT of laundry. Seriously loads. Laundry used to be something that took over my life, until we remodelled our laundry room and implemented a system that revolutionised the way that I tackle our washing. Read on or watch the video below to learn how I easily keep on top of laundry for 6 people with this simple system.
Disclosure – This post contains affiliate links, meaning that if you click through and make a purchase, I will make a small commission at no extra cost to you.
Let me start by saying
As you'll know if you have been following me for a while, I get my children to muck in when it comes to laundry. They obviously don't do all of it and the lion share of it all is still on me, but each of them, even my 2-year-old, is expected to help in some way. There are age-appropriate activities that all children can do when it comes to helping around the house and I encourage you to get your little ones in on the "fun" as soon as possible.
Let's start with dirty washing
All of my family are expected to place their dirty laundry in the laundry basket in the main bathroom. Yes, all of them, even Zara who is just 2. Could I go around the house scooping and gathering various garments from where they have been flung? Sure. Should I? Absolutely not.
I have a number of these Curver laundry baskets for storing and transporting washing. There is at least one (sometimes more as they stack neatly) in the main bathroom at all times. When the top basket is full, it is carried downstairs to the laundry room leaving one or more empty baskets in the stack beneath it, so there is always someone to put more dirty laundry (no excuses people!).
In the laundry room, the washing is sorted into dark and light baskets ready to go into the machines.
Laundry products
For all of our laundry, I use one scoop of Fairy Non Bio powder. I favour powder over gels or liquids as I have been using cloth nappies for years and gels and powders clog the nappies and reduce absorbency.
For clothing and bedding I use Lenor Fabric Softener . Remember that it is not a good idea to use fabric softener with items that you need to remain absorbent, such as towels and cloth nappies.
I add a scoop of Lenor Unstoppables to every wash which makes all of my laundry smell amazing.
I keep Colour Catchers in stock for those awkward items like t shirts with both read and white stripes. If there is any item that I fear might run, I pop one of these in the wash just to be on the safe side.
I keep Vanish powder for those tough stains that are never going to come out with a normal wash.
I use Mio Fresh to sanitise nappy washes, but it also comes in handy when I'm dealing with things such as bedding covered in vomit.
Washing Machine Settings
I wash all of our clothes on a quick, 20 or 30º wash. Bedding, towels and nappies go on a long 60º wash with an extra rinse.
Drying
In my experience, drying certain clothes in the tumble dryer can cause them to prematurely look worn and tired, bobbly even faded. For this reason, I avoid drying certain items this way. For harder wearing or less important items, I'm not sure how I would manage without the dryer, especially as the British weather is less than reliable for outdoor drying.
Here is how I sort items for drying;
Tumble dryer
School uniform
Socks
Pants
PJs
Children's jeans
Our airing cupboard has been fitted with a hanging rail, so is similar to a wardrobe. Clothes are hung on hangers here and, providing that the airing cupboard is not overloaded and the clothes have sufficient room, they dry well. The warmth and gravity mean that they dry with minimal creasing.
Once the clothing from the airing cupboard is dry, it is hung in the relevant wardrobes.
Sorting clothes from the dryer
I used to store everything from the dryer in laundry buckets, then have a mass "laundry party" with the children twice weekly where we would sort and put away the washing into the relevant bedrooms. Although batching this task twice a week was more time efficient than putting each item away as it came out of the dryer, I wanted even more of a time saving system.
Since renovating out laundry room we have added a laundry sorting station. This is simply a kallax unit (you all know how much I love a bit of kallax) with a box allocated for each member of the family, plus one for towels and another for nappies.
As I unload the dryer, the items the relevant boxes. When a box becomes full, it is emptied into one of the curver laundry baskets and take to the bedroom where it belongs. Each person is responsible for folding and putting away their own laundry. Yes, the little ones still need lots of help, but I very much do it with them and not for them.
Check out the video below where my 4 children and I are putting away clean washing as part of a power hour of cleaning and tidying.
Top Tip : Organise school uniform by day not by type
You'll know if you've read my How To Have Stress Free School Run Mornings posts, that when I put children's clothes away, they go away by outfit, not by type. Vheck out the post by lcicking below for more information.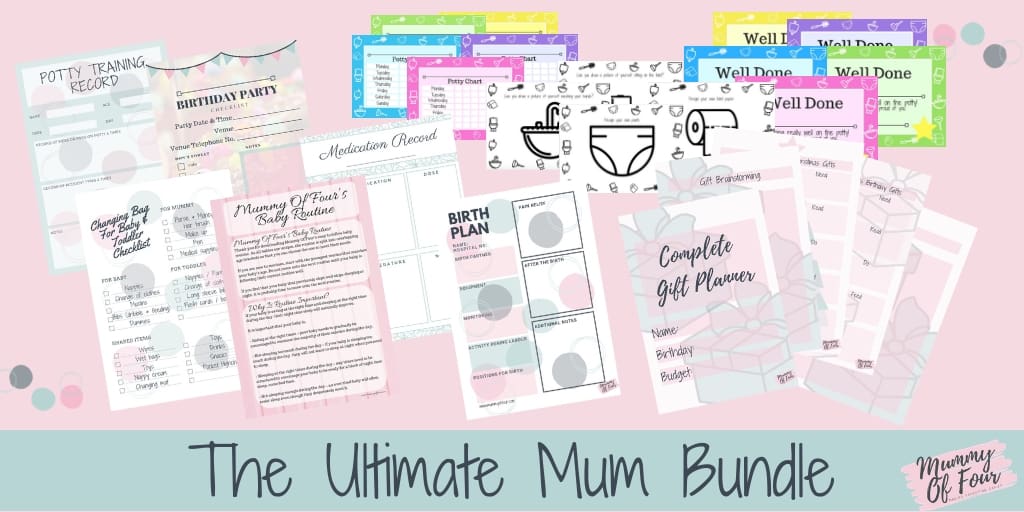 Why not pin this for later?