Most of the Mums that I speak to, both online and "in real life" tell me that they wish that they could be more organised. Most of them live in a constant state of overwhelm, wondering how they are ever going to keep all of the balls in the air when it comes to organising the million and one things that it takes to keep a family going. From shopping and meal planning, to chores, home maintenance, holiday planning and more, there is so much to do.
Catherine Donovan, a mother of three, felt this exact pressure that we all feel and was inspired to create the ultimate app to help us Mums manage all of the tasks such as housework, gardening, vehicle maintenance, food shopping and more.
Check out the video below or read on to learn how this mighty app can save your sanity.
How Does The App Work?
The app acts as a central hub for organising everything you have to do within the home. From the main home screen, you can navigate to allocate tasks that need to be completed, from vehicle maintenance to gardening to making the beds, then monitor which tasks each family member has done. There is even a rewards system to keep everyone incentivised and on track.
Sounds great! How do I get started?
Start by downloading the app from the App Store or Android Market, depending upon which device you are using.
Next, Create A Free Account
Once you've downloaded the app and launched it, you'll be prompted to sign in. As this is your first time using the app, simply select the "sign up" function at the bottom of the screen.
Now you can create an account for yourself as the account holder, then accounts for your family members too. The app will even send them a link so that they can easily download the app.
Welcome To Your Home Counts Dashboard
Once you're all logged in, you can get started with organising your life!
The home screen is sectioned into simple categories where you will find tasks that need allocating and carrying out.
Allocate Tasks
As you go into each section of the app, in this case we are in the household chores section, you will find an extensive list of things that, like it or not, will need doing in your life. The app developers have done a great job of really being comprehensive when including tasks around the home. I'll admit, the list was so extensive that it reminded me of a few jobs that need doing in our house!
You can allocate task to various family members, including yourself, by clicking the orange tick icons. You can set a task's completion date, plus set it as a one off or recurring task and select it's frequency. I like that once a regular task has been allocated to a person, it's a "set it and forget it" situation where the main organiser can be assured that that person will be reminded of what they have to do.
Plan Your Meals
Meal planning is a great way to make our lives easier as Mums and save money too. By using this simple meal planning section of the app, your whole family will be able to see what is on the menu at any given time.
Shop For What You Need
Once you've done your meal planning, head over to the shopping list to make sure that you have everything that you need. I love having my list in a simple format on my phone like this, so that it is easily accessible whenever I have time to shop, either in store or online.
Keep You Family On Track
Once a family member starts a task, it is moved to this timer menu, making it easy to monitor how long that each family member is spending on their given tasks.
I often find that by using a timer, it helps keep me focused on the task in hand. My children even make it into a sort of game, racing to see how quickly they can get things done. Either way, it's a clever trick to help your family get things done.
Reward Good Behaviour
Every time that someone completes one of their assigned tasks, they get points that they can save up towards rewards. I know that using a reward system has always made my children far more likely to cooperate and pitch in, so this feature is a great addition to the app.
Monitor Progress At A Glance
Finally, the report function allows you to monitor at a glance who has completed which tasks. The reports can be viewed within the app and easily shared with others.
How Much Does It Cost?
The good news is, the app is completely free for you to use and test for a full 7 days. During this trial period, you can enjoy access to every one of the features as you organise your family.
If you like the app and find it helpful, you can purchase a low cost subscription. They even offer discounts for paying for longer periods in advance.
So give it a go
Home Counts App is completely free to download and is well worth a look if you are sick of feeling like your life is chaotic and out of control. Using the app has been a really good opportunity to not just see what has to be done around the house, but to really examine who takes responsibility for what.
As you know if you've been following for a while, I'm a firm believer in getting children to help out with age appropriate chores and the benefits that this brings to their development. The Home Counts App is great for encouraging your children to help around the house and reward them for doing so.
Fancy Getting Your Hands On My Ultimate Mum Bundle Resource?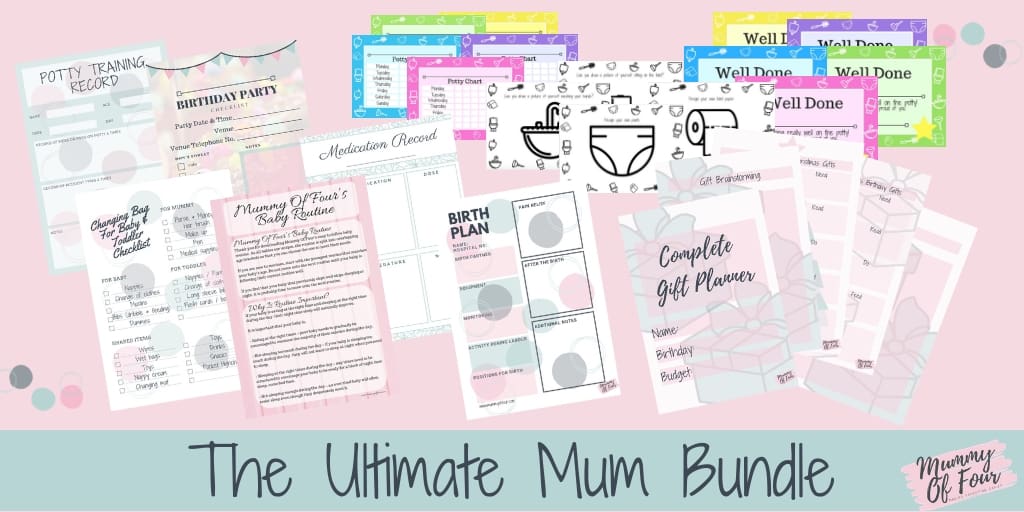 Why Not Pin This For Later?