When you are pregnant and it's time to think about packing your hospital bag for labour and delivery, you may wonder what should be in your bag. Well, I've done this four times over, so I've got you covered. Read on or watch the video below to learn what I recommend packing in your hospital bag, plus the unusual way that I suggest packing your bag.
When should you pack your hospital bag?
You'll get varying answers t this question, but here's the truth – the earlier the better. If it's packed "too early", so what? It's only when you end up in hospital far earlier than expected with no things that it becomes a problem. I don't see any harm in collecting together some bits and pieces from 30 weeks. I never was a Girl Scout, but there's nothing wrong with being prepared.
You don't need one hospital bag, you need 2
Now here's where my advice will differ from the usual advice out there. I don't advise one hospital bag, I suggest using a 2 part system.
The 2 bags you will need are;
Prenatal & labour bag
Postnatal bag
Why these 2 bags?
While I am sure that like most people, you will have a perfectly "normal" and uncomplicated pregnancy, there's always a chance that you'll be one of the unlucky few, like me, that end up with complications that lead to multiple hospital stays before delivery. Most of these hospital stays, in my case at least, were for monitoring and treatment and did not result in delivering my baby. At any time, however, they could have decided that the pregnancy had become unsafe and it was time to induce laout.
If I'd taken my hospital bag full of all of the things that I'd need assuming that I was going in to actually have my bab, I would have spent the best part of those stays taking tiny baby clothes in and out of my bags. This would have been unnecessary extra stuff to carry around, plus would have messed up my beautifully folded clothes that I had packed ready for my baby.
So I would always suggest packing 2 bags, the prenatal and labour bag and then the postnatal bag. Let's take a look at what you need in each bag.
Prenatal stay bag
Like I said, this bag is the bag that will see you through labour, but will also be the things that you need if you are admitted antenatally.
Maternity notes
You'll need to have your maternity notes with you whenever you see any medical professional. You can keep these in your bag ready to to, or even in the car so that they are always with you for outpatient appountments too.
Birth Plan
If you haven't written your birth plan yet, you can get your birth plan template here.
Clothes
When it comes to clothing for the hospital, think layers. Some hospitals are freezing and some are like saunas and some have temperatures that fluctuate between the two. Here are some clothing items that you'll need.
Yoga pants – these are better than pj bottoms as they are technically day wear, so you can wear them home without too many funny looks.
Vest tops
Cardigans or jumpers
Socks
Flip flips – for communal showers
Wash bag
A few bits that you'll need to think about for your wash bag;
Dry shampoo
Actual shampoo & conditioner
Shower gel
Razor – you may not feel like shaving your legs but there's nothing worse than wanting to and not having a razor – am I right?
Mascara or other basic make up (again, you probably won't want to bother, but it's nice to have the option if you want to)
Moisturiser
Lip balm
Facial cleansing wipes
Deodorant
Hairbrush
Something to tie your hair back with
Toothbrush
Toothpaste
Towels
Pack a hand towel and a bath towel as most hospitals won't provide these.
Entertainment
Load up your phone with TV shows, books to read, audiobooks and films. If you're stuck in hospital it's likely you'll be incredibly bored. Even in ealry labour these thing can be a welcomed distraction.
I also made sure that I had my hypnibirthing tracks on my phone so that they were always with me.
Head phones
Chances are, you'll be on a ward with other women, so the only way that you'll be able to enjoy all of this fab entertainment is with headphones, so don't forger them.
Chargers
Pack a wall charger and a phone charging lead. It can also be a good idea to pack a chraging bank or pack, in case you can't get access to a mains socket.
Food & Snacks
The hospital will provide food, but chances are that it won't be up to much. Hospital food is generally worse than aeroplane food. Plus, if you are in labour, it's likely that you'll be awake at some unearthly hour when they won't be feeding you anyway. Pack some protein based snacks to keep you and your birth partner going if necessery.
Drinks
The ward will provide jugs or water, but often they are so busy that water won't be topped up right away. I found labour, especially when I had gas and air, gave me a very dry mouth, so I was glad when I had my own bottled water as back up. I'd also recommend packing sports drinks to replace electrolytes and keep you hydreated.
Disposable knickers & Maternity Pads
I hate to break it to you, labour is messy. After the birth is pretty messy too. Buy yourself several pairs disposable pants to go with your maternity pads and allow the hospital to dispose of them when you're done. Do youself a favout and but them a size bigger than you need too, you'll thank me after the birth when they are not clinging too tight to your sore lady aprts.
Money
Hospitals will not necessarily have cash points, so make sure you pack some money for the canteen and change for vending machines.
For your kids
If you are kept in for an antenatal stay and your kids visit you, you'll be glad of something to occupy them. Sticker books are a great way to keep them busy while visiting.
Foldaway Bags
As with all trips, packing your stuff back into your bag to go home will not be as neat and easy as packing initially. It's a good idea to pack some foldaway bags for all the stuff you accumulate during yor stay that won;t fit into your priginal bag.
Postnatal Bag
This bag is for you and your baby. You will of course, still have all of the things from your prenatal and delivery bag with you, so the things ijn this second bag are in addition.
Things for baby
Cloth nappies
Wipes
Wet bags
Vests
Clothes
Sleep suits
Hat
Blankets
Muslin squares
Dummies
Snuza
Things for you
More clean clothes (yoga pants, vest tops, cardigan, & socks
Nursing bras
Breast pads
Disposable knickers
Maternity pads
More drinks & snacks
Gifts from the baby to your children
That should just about cover it!
All that's left for me to say now is "congratulations and good luck"! Have fun packing your bag and I hope it all goes smoothly for your birth.
You might want to check out some of these other posts about preparing for your baby before the big day.
Fancy Getting Your Hands On My Ultimate Mum Bundle Resource?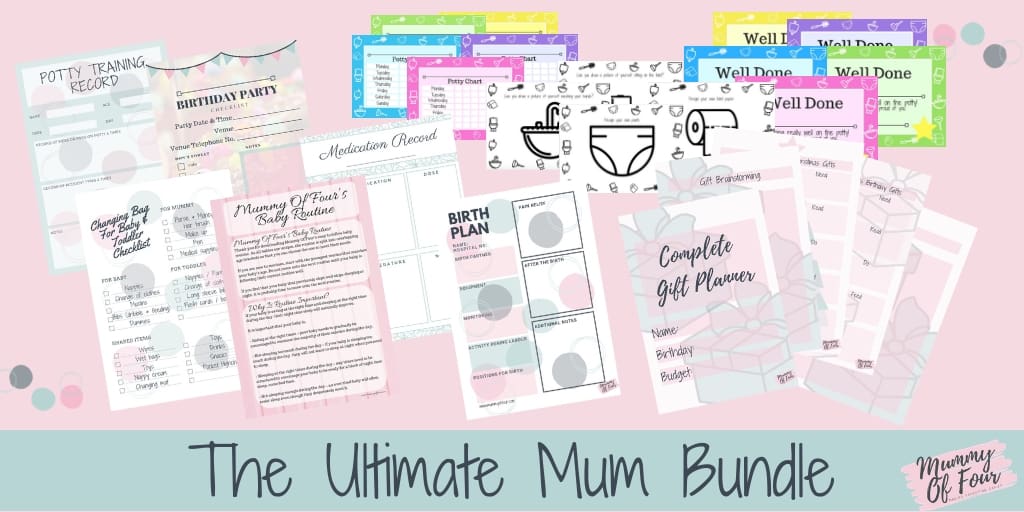 Why Not Pin This For Later?