If you are preparing for the birth of your baby, you are probably wondering which essential baby items you will need for their bedroom. After having four children, I have a finely tuned list of baby nursery essentials that will make your life so much easier. Many of these items are also designed to specifically help you and your baby sleep well, as well as help to protect your baby from SIDS.
Read on to find out my top recommendations for setting up your baby's bedroom to maximise the chances of both you and your baby getting the sleep that you both need.
Co-Sleeping Crib
The Lullaby Trust Safe Sleep Guidelines state that the safest place for a baby to sleep within the first 6 months in the same room as you. They should be sleeping in their own surface in a cot or Moses basket, on a firm flat mattress with a waterproof cover. They recommend that co-sleeping in the same bed is avoided in order to reduce the risk of SIDs.
A good compromise that allows you to adhere to these guidelines, while still enjoying the benefits of co-sleeping is a co-sleeping crib. These amazing little cots attach on to the parent's mattress and allow you to be close enough to comfort and feed your baby, while still allowing them to sleep safely without the risk of overheating or suffocation.
Cot
When your baby grows out of the co-sleeping crib, they will need a larger cot. We went for a wooden cart with a drop-down side from John Lewis, which makes it easier to lift your baby in an out even when the mattress is at its lowest base position.
Single Bed
Although it will be a very long time before your baby is ready to sleep in a single bed, I would suggest buying one before they are even born. I know this sounds crazy, but hear me out.
Your baby's nursery will be the perfect little retreat for you and your baby. If you are able to nap while the baby is napping during the day, you can sleep in the single bed next to your baby as they sleep in their cot, undisturbed by the rest of the household.
I used to prefer going into the baby's room at night for feeds where I could turn off the TV and binge watch my favourite shows without the fear of waking anyone else up. I found that a bed in the baby's room is a great place to do these night feeds while you are especially tired. I found this far better than sitting some sort of nursing chair.
Even when your baby is coming out of needing regular night feeds, there will still be times where you have to spend hours on end with a poorly baby and you will thank me for persuading you to buy a single bed to lie down in, instead of a rocking chair.
I cannot tell you how grateful I have been on so many occasions the ability to lie down in my children's room in order to settle them. I have spent many an hour lying on the bed next to them with my hands through the bars of the cot. At least at these times, I have had a comfortable place to rest.
When I was discharged from hospital to recover from sepsis after baby number four, I spent most of my time recuperating in my baby's room in this bed that we had luckily bought.
Think about it, you will have to buy one of the things you have to buy them think about eventually, so why not get one first as last as long as stop you could always turn single bed into a sort of sofa/daybed with cushions if that's what you wanted to do.
Wardrobe
You'll need a wardrobe of your baby's room, but whatever you do, do not buy a baby wardrobe. Cute as they are, they small and impractical just won't last. If you want my advice, I would suggest buying the largest wardrobe that you can fit into your babies bedroom. Maximise the height as well as the width too. We have the Pax wardrobes from IKEA and they are great. While your baby is small, you can add multiple rails which will give you plenty of space to divide up clothes by age-group. Buying full-sized wardrobes first as last will mean that the wardrobe continues to suit the needs of your child as they grow and avoid a huge waste of money.
Storage Drawers & Shelves
A chest of drawers or an equivalent type of storage is essential for your baby's bedroom so that you can fold away vests, babygrows and other baby bits and bobs. A great option would be to buy the Kallax storage system from IKEA.
I am a huge fan of Kallax and we have them in almost every room in our house. These brilliant square shelves and the boxes that slot into them are just so versatile as a storage solution.
Changing Mat
Rather than purchasing an expensive changing table, you can get a baby changing mat fraction of the price. I have always preferred to change my baby on baby changing mat on the bed when they were tiny and then on the floor as it started to show any signs of interest in moving at all.
As my grandmother always said, "You can't fall from the floor". As your baby becomes mobile fancy changing station will soon become totally impractical as they will take every opportunity to dive off it. If you're looking for something to avoid buying in order to save money, make it the changing table, I have always managed perfectly well without them.
Black Out Blind
As I discussed in my posts all about getting better quality sleep and helping your baby to sleep, darkness isn't essential ingredient for getting both you and your baby to sleep. I cannot stress enough how important is to get a really good blackout blinds or curtains that don't let in even the smallest amount of light unless you fancy being up the crack of dawn in the summer months. I currently have a blackout roller blind and blackout curtains and my daughter's room in order to make it really dark. I have previously used to grow blind blackout blind which sticks to the window with suckers and can be used for travelling. If you are looking for super easy and almost free hack for blacking out the light from your child's bedroom, if you you can wet one side of a sheet of tinfoil and it will then stick to the glass of the window. This may make the outside of the window look a little bit like a cannabis farm, but it is a quick, cheap and easy solution if you are really desperate for some sleep.
Gro Egg
The Lullaby Trust recommends that your babies nursery stays between 16 and 20°C to avoid the risk of SIDS. We use Gro Eggs in our children's bedrooms which given instant and easy to see at a glance reading of the temperature in at any given time. The Gro Egg glows blue if the nursery is too cold, yellow if it is the correct temperature, orange of it is little too warm and read it is far too hot.
Sleeping Bags
Overheating is said to be a contributing factor to SIDs, so layering too many blankets which could end up covering their little faces is nit a good idea. If your baby kicks off blankets and gets too cold they are likely to wake unnecessarily. The simple answer to both of these problems is the baby sleeping bag. Baby sleeping bags are a great solution baby and the best temperature to help them get the best and safest night sleep possible. 2.5 tog sleeping bags can be used for most of the year, with one or 0.5 tog sleeping bags to be used in the warm summer months of the daytime naps.
Angel Care Monitor
When I had my first son I can remember that I was almost scared to go to sleep in case he stopped breathing. I would wake constantly and check that his chest was still rising and falling. When I was pregnant with my second son, a family that we knew tragically lost a  baby to SIDs. I was beside myself. You see this sort of thing on the news, but this had happened to someone that we actually knew and the reality of that totally freaked me out. I was pregnant, hormonal and just terrified. This is awful thing that I had always been scared of happening were suddenly far too real.
My husband bought the angel care model number of video and breathing monitor to try and calm me down. There is a mat that goes under the mattress after part that detects the motion of the babies breathing. On the video monitor screen, there is a swinging pendulum indicating that the baby is breathing.
I cannot tell you how comforting that was. I would (and still do on many nights) glance at that swinging pendulum before going to sleep. I would think "it's okay, the baby's breathing and monitor will wake you if there's a problem, you can have permission to go to sleep". This monitor has brought such peace of mind that I have had many more hours of sleep then I would have done if I had been lying awake worrying.
Snuza
An alternative to the Angel Care Monitor is a Snuza. The Snuza is a portable breathing monitor the clips onto your baby's nappy. Although we used the Angel Care at home, the Snuza can be used at home in the cot just to monitor breathing. We mainly used the Snuza while out and about, away on holiday or when our babies were sleeping anywhere other than in their own rooms. I can highly recommend the Snuza and once again, it brought me great peace of mind.
Night Light
A night light is a really handy thing to have in your baby's room. For evening and night feeds you will need enough light to see what you were doing but not so much like your baby thinks it is daytime refuses to go back to sleep. A night light or low lighting lamp is a must-have to get you through the feeding sessions.
Phone chargers
As I discussed in my post all about TV shows the binge-watch while breastfeeding, you will probably want something to keep you awake while feeding your baby no nursery. I would make sure that you have a charger for your phone or iPad in their room to make sure that you have enough entertainment to keep you awake when you're tired.
Drink Bottles
In my Breastfeeding Tips That Every Mum Should Know post I discussed something that anyone who has ever breastfed will know all about – drought mouth. As soon as your baby latches on to your boob, your clever body will remind you to replenish your fluids by making you so thirsty that you would swear that you had a hangover. I found that keeping a reusable water bottle such as a Chilly Bottle is a great way to have a supply of cold water to hand for feeds.
Breast Pump
Although you could almost anywhere to express milk, I always found that sitting on the bed in the baby's room was a good place to pump, making it one of my nursery essentials. For more about expressing and which pumps to choose, check out my Top Tips For Expressing Breastmilk post.
Fancy Getting Your Hands On My Ultimate Mum Bundle Resource?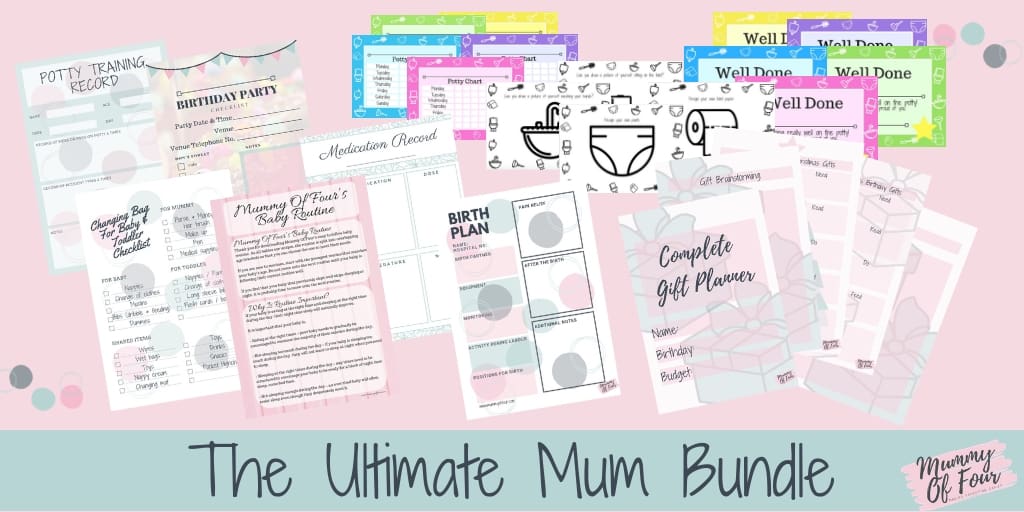 So those are my must-have items for your baby's nursery. Which items would you not be without in your babies bedroom? Let me know in comments, I always love hearing from you, my lovely readers.
Why Not Pin This For Later?