If you've read my Potty Training In 3 Days post, you'll know that I always recommend staying in the house for up to a week when you start potty training your toddler. But what happens when you need to leave the house and deal with potty training in public places? Don't worry! I have put together a list of potty training essentials & hacks, including the potette plus travel potty, to ensure that you can potty train with success.
Check out the video then read on to hear exactly how you can make potty training on the go easier.
Disclosure – This post contains affiliate links, meaning that if you click through and make a purchase, I will make a small commission at no extra cost to you.
Training Pants
Although when in the house I recommend using normal pants or knickers, during your first trips out training pants with some level of absorbency are a life saver. You can go for the widely used disposable pull ups (which I would definitely leave put pants underneath to avoid them feeling too much like a nappy.
Alternatively, you can go for cloth training pants. These are a brilliant option as they feel like "real" pants, but will catch the worst of a small accident without creating a flood while you are out.
Here are a few of my favourite cloth training pants.
JoJo Maman Bebe Training Pants
Bambino Mio Training Pants
Spare Clothing
Make sure that you are taking entire changes of clothing with you, not forgetting socks, for when accidents occur. I like to pack outfits into clear cosmetic cases to keep them clean and tidy until needed.
Potette Plus Travel Potty & Toilet Seat
Potette Liners
Double Zip Wet Bag
Although the potette comes with a plastic carry bag, I use a double zip wet bag as it is washable and has a compartment for other tires I need to take with me.
Baby Wipes
Baby wipes are a must have "on the go" potty training item. You can choose to use disposable wipes, or opt for cloth baby wipes. Check out my blog post explaining how to use cloth wipes and why I love them here.
Hand Sanitiser
Clear Pencil Cases
Clear pencil cases are ideal for keeping things such as hand sanitiser and other liquids from leaking all over your bag.
Mini Spray Bottles
I like to put a few drops of Zoflora into a mini spray bottle – ideal for clean ups on the go.
Microfibre Cloths
Car Seat Protection
More tips for trips out of the house
Make sure your toddler goes to the toilet before you leave the house
Keep reminding them constantly – they will be more distracted away from home
Join The Conversation
Click on the Instagram post below and let me know if you've ventured out with your potty training toddler yet.
Fancy Getting Your Hands On My Ultimate Mum Bundle Resource?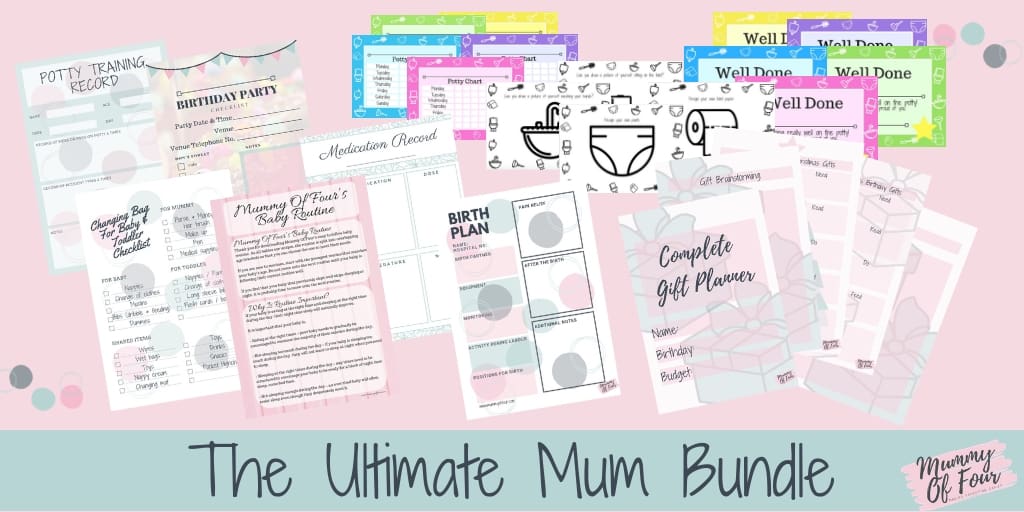 Why Not Pin This For Later?