Are you packing for an upcoming family trip or holiday? Today, I am packing everything that we will need for our trip with 2 adults and 4 children (including a 2 year old in full time cloth nappies). Check out the video below or read on for a full list of everything that I recommend packing to make your self catering holiday a success, plus my top tips and hacks for successful packing.
To get your hands on the Ultimate Mum Bundle which includes the packing checklist mentioned in the video, join my parenting email club below.
Disclosure – This post contains affiliate links, meaning that if you click through and make a purchase, I will make a small commission at no extra cost to you.
Where are we going?
We are very lucky to be going on a 2 night press trip to Parkdean's Warmwell Holiday Park. We will be staying in the Osmington 3 bedroom lodge. The lodge is luxury self-catering accommodation complete with a washer dryer and dishwasher.
Osmington 3 bed lodge at Warmwell kitchen

Osmington 3 bed lodge at Warmwell bedroom

Osmington 3 bed lodge at Warmwell bathroom

Osmington 3 bed lodge at Warmwell lounge
Keep reading for full details of everything that I am packing for our trip, plus top tips for packing for your family holiday.
Clothing
We are going for 2 nights, so for each of the 6 of us I am packing;
2 x complete outfits (dresses for the girls plus cardigans & hairbands. Tops and bottoms for the rest of us)
2 x sets of underwear
2 x pairs of socks
PJs (2 x sets for the children, 1 set for the grown-ups)
Lightweight packaway waterproof jackets (that hopefully we won't need)
Sun hats for the children
Top Tips For Packing Clothing
I like to lay everything out by complete outfit before packing things into the case, this way I can ensure that everyone has matching things to wear each day. I also try to pack a "capsule wardrobe" for each person, meaning that I choose outfits that have mix and match items for the weekend. For example, I have packed one cardigan for each day for the girls (plus the one they will wear to arrive) as they are pretty messy, but because an of the 3 cardigans would match any of the dresses, I have backup options if they get really messy. It also means that one pair of shoes will match all outfits.
Once the outfits are selected, I like to fold them together to keep sets together. I fold everything in the Kon Mari "triangle" method popularised by Marie Kondo.
I also use these clear cosmetic cases when packing to section different items, keeping everything neater and making things easier to find.
Toiletries
Toothbrushes & toothpaste – I keep these in a clear cosmetic case for when we travel. I also use these toothbrush head covers that I bought in Primark.
Shampoo
Conditioner
Shower gel
Deodorant (one each for me, my husband and teenage son)
Makeup (for me)
Moisturiser – I have terribly dry skin and couldn't leave home without it
Hair straighteners (also for me).
Hairbrush
Sunscreen – fingers crossed we'll need it!
Cloth Nappies
This is (hopefully) one of our last trips with full-time nappies before Zara is potty trained over the summer break. For a Friday to Sunday break I am packing the following cloth nappies & accessories;
25 day-time nappies (it is unlikely that Zara will go through more than 8 a day but I'd rather have too many than not enough).
fingers night time nappies (again, she normally only uses one per night, but you know, just in case)
Cloth baby wipes (click here to read my post explaining all about cloth wipes)
Cloth wipes box
Lavender essential oil (to fragrance the wipes)
Tea tree essential oil (to mask any nasty smells)
CJ's Bottom Butter – my favourite cloth safe bum cream
2 x large wet bags
6 x small wet bags (for out and about)
If you would like to know more about cloth nappies, please check out my cloth nappy series which explains everything from which type you need to washing, stuffing, storing and fitting.
First Aid
Painkiller tablets (for the grown-ups)
Calopl & Nurofen (for the little ones), plus medication syringes
Plasters
For The Lodge
Toilet rolls (one complimentary toilet roll is provided, but as a family of 6 we will need more than that)
Hand soap x 2 (one for the kitchen, one for the bathroom)
Kitchen roll
Cleaning spray
Dishwasher tablets
Washing powder – yes, there is a washing machine included in the lodge
Mio Fresh nappy sanitiser – I'm not planning to wash nappies during our trip, but again, just in case.
Door stops – on our last trip Zara thought it was a very fun game to run around slamming doors, so door stops should avoid that hassle.
Phone & watch chargers plugs and cables – I keep a set of these that I bought especially for travelling so that I don't have to go hunting for chargers when we go away.
To Entertain The Children
One soft toy each
TeeBee boxes – are fab little boxes that are ideal for toys to keep them busy while away such as LEGO and little figures.
Sticker books
Monopoly Deal – William's favourite card game.
DVDs – there is a DVD player included in the lodge
For bedtime
We have gone for the option to have a travel cot provided for us and all of the beds in the lodge will be made up when we arrive, but we will still need a few extra bits and pieces for bed time.
Bedding for the cot
Zara's baby sleeping bags
Zara's unicorn nightlight
Munchkin 360 spill-proof cups – Zara has these her cot as a drink for the night.
For out and about
Changing bag – check out my changing bag essentials post for things that I always have with me in my bag
Ride on board
Rain covers
egg picnic basket – that attaches to the pram
Picnic blanket
For the pool
I am packing a swimming costume and swim towel each (the holiday park provide towels of the lodge but we need to take separate ones for the pool). I am also taking armbands for the little ones.
For the slopes
Although it's June, I am taking some padded ski type trousers for the girls. I'm hoping they won't need them for warmth (you'd like to think it'll be warm-ish in June) but may need them to protect their legs on the ski slope.
For the journey
For My VLOG
Now most of you won't need these things, but as I'll be blogging our trip, I will be taking the following equipment.
Battery charger
Spare SD cards
iPad Pro
My kit bag (a super pretty backpack that I bought in Cath Kidston)
No need to bring on this trip….
These are the things that I won't be packing for this trip as they are included in the lodge that we are staying in, but it may be worth you considering packing if the self catering accommodation that you are visiting does not include them;
Hand & bath towels
Hair dryer
Iron
If it was winter, I would also bring;
Winter coats
Hats, scarves & gloves
Wellies
Where are you off to on your next family trip or holiday?
Click on the Instagram post below to join the conversation.
Fancy Getting Your Hands On My Ultimate Mum Bundle Resource?
… which includes my packing checklist that I use to make sure that each family member has what they need when we go away.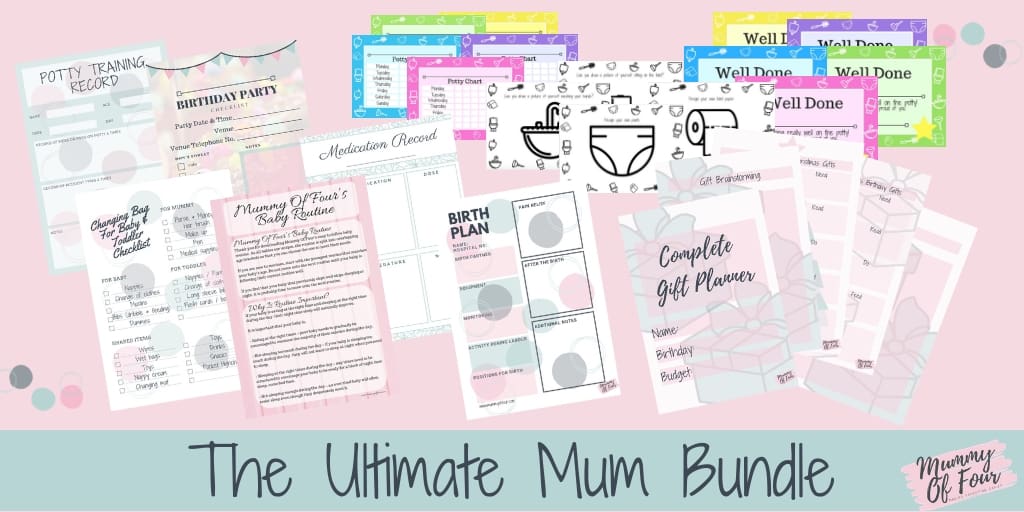 Why Not Pin This For Later?