If you're thinking about buying a group 0+/1 car seat for your baby, you may be considering the JOIE iSpin 360 Isofix car seat and wondering if it is any good. Read on or watch the video below to see me unbox, test, install and review the JOIE iSpin 360 iSize car seat and give my honest opinions.
Disclosure – I was sent this car seat in exchange for an honest review. All words and opinions are my own. This post contains affiliate links. All this means is that if you click one of the links and make a purchase, I make a small commission at no extra cost to you.
First Impressions
When I unboxed the seat, my first impressions of it were that it is made of beautiful, high-quality fabrics and the build quality feels sturdy. I like the sort of denim blue colour which Joie call "deep sea".
When the seat arrived, I immediately jumped on to my Instagram stories to ask if anyone else had the seat and what they thought about it. I was inundated with messages from Mums, just like this one, raving about haw great the seat is.
Important Imformation From Joie
Here are the technical specifications directly from the manufacturer.
Meets the i-Size ECE R129/02 standard
Suitable rearward facing from birth to 105cm/4 years
Suitable forward facing from 15 months to 105cm/4 years
Smart Ride™ lock-off helps keep baby rearward until it's safe to turn forward (15 months)
One-hand, 360° seat rotation makes for an easy in, easy out
Simple Swivel™ turning activator positioned where you naturally reach
Sleepytime tilt™ includes 6 recline positions usable in both rear facing and forward facing modes
Guard Surround Safety™ panels auto-engage when harness is tightened
One-hand, 6-position Grow Together™ headrest and harness system adjusts simultaneously and requires no re-threading of harness
Grow-with-me infant insert has 3 individual pieces for a custom fit at any stage
Tri-Protect™ headrest offers security with three layers of protection inside the wings, including patented Intelli-Fit™ memory foam
5-point harness with shoulder and lower buckle covers that easily tightens with one pull motion
Easy install with retractable ISOFIX
On-the-go recline adjusts without reinstalling
19 position adjustable support leg provides ultimate stability, security and easily adjusts for the best fit
Installation indicator conveniently located on top of base to confirm load leg is fitted properly
Plush, deluxe cushioning and fabrics
Built-in side ventilation
Group 0+ Suitable from birth
Just as when I reviewed the Joie Everystage FX car seat, I still don't have a newborn baby to try out the seat (*sobs quietly*) so once again, it's time to bring out my trusty assistant "Dolly" who will be playing the part of a newborn for the purpose of this review.
As with all rear facing seats, the Joie Spin 360 is rear facing. The beauty of this seat is that the seat swivels to face the side of the car in order for you to safely secure baby into their seat. Until you have attempted to safely tuck your newborn into a fixed rear facing seat and ensure that the seat belt is tight enough with only the "2 finger" gap between baby and belt, you cannot appreciate how much easier it is to secure them in while facing you.
Turning the seat is so easy. Simply squeeze the button on the side of the seat (shown above) and the seat will release and turn. This can be done with one hand so really couldn't be easier.
Group 1 – suitable up to 18kg
Group 1 car seats are for babies weighing 9kg to 18kg. When your baby reaches the 9kg mark, the Joie iSpin 360 gives you the option to easily spin your baby to either the rear or forward facing position once they are strapped in.
I love that this option is available with the simple squeeze of a button, rather than the usual rather extensive exercise of removing the seat and refitting it as you have to with most other car seats.
The Pros
Suitable from birth and can be used up until around age 4.
The easiest seat that I have ever used when it comes to getting baby in and out.
Easy to install.
Luxurious fabrics.
Side impact protection automatically spring out when you buckle your baby in.
The Cons
Unlike the Joie Everystage FX that I recently reviewed and will last your child until they no longer need a car seat, the Spin 360 only lasts until age 4.
The seat is on the heavy side to carry to the car, but this is not too much of an issue as once it is fitted, there is no reason to move it until your child grows out of it.
The Verdict
I am absolutely delighted with this seat and genuinely wish that I'd had it since Zara was born. When she was very small, we used a carry car seat with a base in one car and buckled it into the other car. While clicking her seat into the base in one car was quite simple, buckling it into the other car was a total pain and a real faff.
With hind sight, I should have purchased one of these seats first as last for our second car, as eventually, she would have to have a permanent seat in each of our cars once she grew out of her infant carrier anyway.
This seat really is the easiest seat I have used when it comes to qucikly and safely securing baby. Not only is it far easier to physically get them into the seat as they are swivelled towards the open door, but it is much easier to sufficiently tighten the straps by pulling the strap between their legs too. I always felt that I just couldn't pull it tight enough with her last seat.
Fancy Getting Your Hands On My Ultimate Mum Bundle Resource?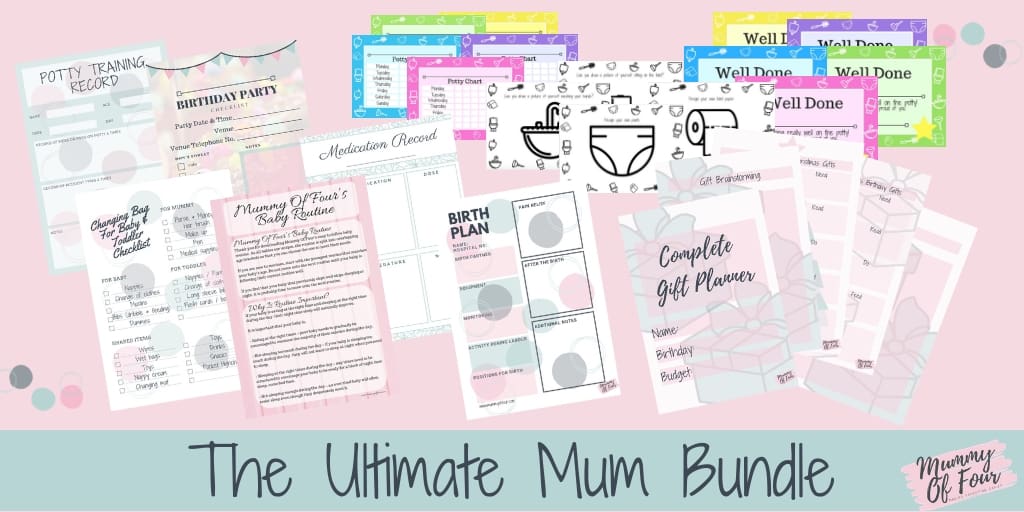 Why Not Pin This For Later?