As Mums, we are super busy. Time is a precious commodity and getting this done with babies, toddlers or kids around can be hard. So what's the answer? Read on to learn all about the power hour and how it can help you reduce your stress levels when it comes to housework achieve more and have more of a life too.
Welcome to the power hour
"What is the power hour?" I'm glad you asked! Well, quite simply, it's an intense hour where you put all of your focus on a short list of jobs that you want to get done. The power hour is designed to be an intense 60 minutes of focussed cleaning and tidying in order to achieve a manageable pre-designed list of tasks. It is not about "finishing" the whole house or getting every room perfect.
Check out the video below for a "Power Hour Clean With Me" to see what I mean.
Why the power hour?
Quite simply, the power hour is not about getting your whole house perfect. Nope, that's not it at all.
As Mums, we are so rarely given the luxury of enough time to complete all of the jobs we want to get done. The power hour does what it says on the tin – it encourages you to cram in as much housework as you can in 60 intense minutes, then once it's over, you can get on with your day.
Top power hour tips
Keep reading for my 7 tips tips for maximising your power hour.
1. Focus on what's most urgent
Now this can vary from house to house and in fact from day to day. Start with the areas of your home that are most urgent (say, the washing if you're running out of clean pants) or the areas that are stressing you out the most. If the playroom is a tip but it's not bothering you, don't start there. If your kitchen isn't as bad, but it's irritating you more, that would be a good place to begin.
2. Make your list
Remember that this is just 60 minutes, so it's doubtful that you'll manage everything, so list out the jobs that you'd like to achieve. Write out your list with the most urgent "must do" jobs at the top and work down in piority order.
3. Get the kids involved
If you've been following me for a while, you'll know that I'm a huge fan of getting the kids involved in housework. The power hour is a great place to start. For 60 minutes, you can get them to join in with age-appropriate tasks in a "yay, let's all do this together with loud music on" kind of way. Once the power hour is up, you can reward them with fun activities of thier choosing.
I'm fully aware that involving your kids may not decrease your workload initially (in fact, it may mean you get less done at times). However, it's a great way to teach them about what needs to be done to look after a home. These are valuable skills that they will need as they grow up.
4. Channel your energy
Remember, these are 60 focused minutes, so limit distractions. Put your phone on "Do Not Disturb" and resist the urge to check social media, scroll eBay or any other time-sucking / fall down the rabbit hole habits that can often be the enemies of productivity.
Instead, put on some motivational music, or perhaps one of my speed cleaning videos in the background. Set a timer and commit to charging through as much of your list with as much gusto as you can muster. It's only 60 minutes, you can do this! Just thibk of how good your well deserved down time will feel when it's done.
5. Organise your supplies
Have everything that you need organised in advance. I like to have supplies of my favourite cleaning products in stock at all times. Make sure you check your supply levels and stock up each week when you do your grocery shop. There is nothing more annoying or time-sucking than to realise you don't have the right stuff for the job in hand mid power hour.
6. Look at it as cardio!
Think of the power hour as getting your heart rate up – you're killing 2 birds with one stone! You can inject some much needed movement into your day, plus thinking of it as cardio will push you to clean harder and get more done. Do your best to work up a sweat. This is why, when it fits into my schedule, I like to do a "power hour then shower" early in the morning before getting dressed for the day. Although this isn't really managable for me on weekdays, it works so well on weekedns and school holidays.
7. Don't beat yourself up
As much as we are bombarded with images of Insta perfect homes every time we scroll social media, be realistic. You're a mother first and that is the most important thing. Keeping an absolutely immaculate home with small children is nearly impossible. The power hour is not about perfection, instead it's a tool to help you stay on top of what needs doing around the home, while still allowing time to take care of your kids.
Check out the video below. This was intended to be a whole house clean (the house was in a terrible state post holiday and illness) and thanks to my kids generally needing their Mum, I didn't finish it all. Do you know what? That's ok.
Fancy Getting Your Hands On My Ultimate Mum Bundle Resource?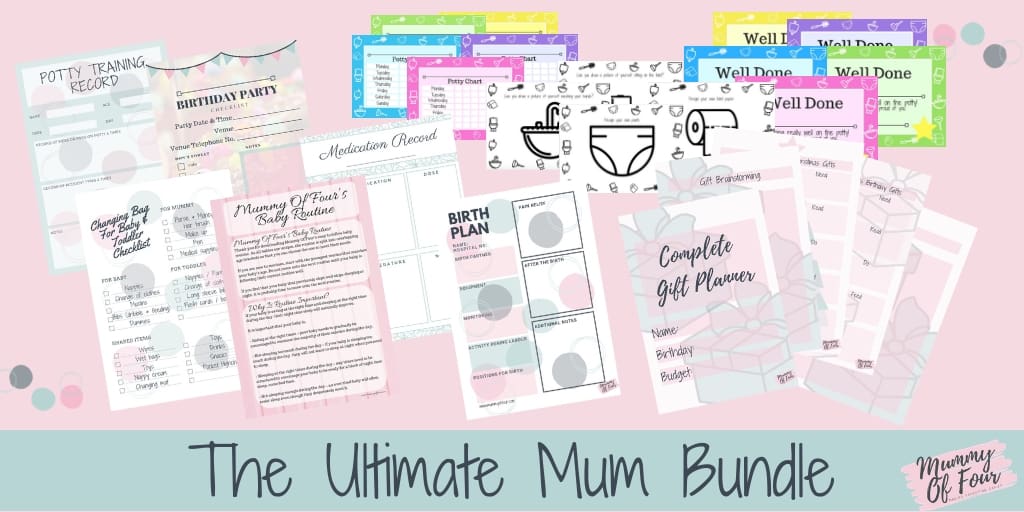 Why Not Pin This For Later?